Microsoft Advertising Management Prices
We are transparent! Ask for a custom price quote based on your unique needs.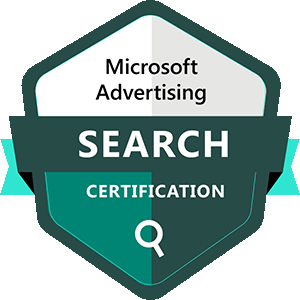 Our typical Microsoft Advertising client will start in Google Ads and have success there before migrating what has been successful into the Microsoft Advertising.
Set up of a Microsoft Advertising account and migration of select top performing Google Ads campaigns and ad groups typically takes 2 to 2.5 hours. This time is billed at our hourly rate of $90 per hour.
Once the program is running, management is merged with Google Ads management fees and our account management time is split between the two running ad programs.
We will bill for services based on the combined Google Ads and Microsoft Advertising scheduled ad spend and ad groups following this schedule.
Verifiy Nancy McCord's certification. Verify Christopher Harper's certification.
Our Monthly Management Fees for Google Ads and Microsoft Advertising Combined
Prices are subject to change.
Monthly Management Fee Calculator (more ranges available by request)
Prices are subject to change.
Fee
Daily Ad Spend
Ad Groups
$275
$16.45 to $98.68
1 to 6
$325
$98.69 to $131.58
7 to 10
$360
$131.59 to $164.47
11 to 15
$450
$164.48 to $197.37
16 to 18
$540
$197.38 to $246.71
19 to 21
Ask us for other price levels if needed.
We provide a free 15-minute existing account review to provide recommendations on what we can do to improve performance. Some Google Ads accounts customers with existing ad accounts will be able to start our services with a time charge for account optimization and then move into our monthly management program. Ask for your free review and pricing estimate today.